Search by Map
Search for Homes by Neighborhood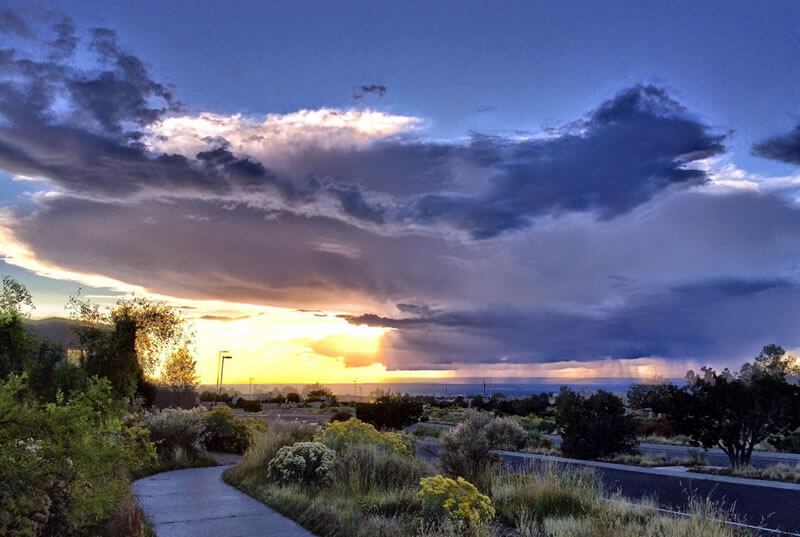 Under all is the land, and our homes are our shelter. Everyone wants a nice house located in a great area of a city or town where all of the things they like during the day are close by and convenient. In Albuquerque, one of the fastest growing cities in America, our variety of homes and neighborhoods are the best! Buy a home in Albuquerque and you are certain to enjoy the styles and flair that cater to any taste and fashion.
There are many choices in Albuquerque real estate. From pueblo style, to mid-century modern, Frank Lloyd Wright designs to brick ranch style. For those who like ultra modern, Albuquerque offers a fine collection of architectural and artistic homes built by world famous architects Bart Prince and Antoine Predock, to name a few. Luxury homes in Albuquerque ranges from masterful pueblo style homes in the high desert to two story traditional beauties in golf course communities, to Tuscan style homes. Horse properties can be found at nearly every price range. If you are on a budget, there are numerous condominium and townhome projects and loft properties to choose from – downtown to uptown to everywhere in between. Multifamily properties and apartment buildings are purchased by investors for long term investments, as the rental market has always been strong with Albuquerque's moving population.
Land is available and is a sure investment for long term holding. Albuquerque is somewhat land-locked, as we are surrounded by Kirtland Air Force Base to the South, Pueblo lands to the North, and the Sandia Mountains to the East. As more Albuquerque homes are built, less land is available, and the more valuable it becomes. Land is available at all price ranges. Albuquerque is in the center of New Mexico, and features the I-25/I-40 corridor. Because there is a lot of traffic through the center, commercial businesses are always entertaining Albuquerque as a destination with affordable labor and affordable land to build new headquarters. The University of New Mexico, many hospitals including Presbyterian Health Care and the Sandia Labs are always big draws for future business activity.
The neighborhoods in Albuquerque – High Desert, Sandia Heights, Nob Hill, Four Hills, Paradise Hills, Taylor Ranch and the neighboring community of Rio Rancho – all offer fantastic choices. We have created this website to provide you with as much information about the Albuquerque area as we can find, and changes to the website with new links and information are done every week. We offer all of the MLS listings available, with daily updates for all of the Albuquerque listings. Each listing features information on the home size, features and benefits.
Search through these neighborhoods for area descriptions and neighborhoods with custom searches from the MLS to find updated information on homes that are available to fit your needs.
All of the information contained with our Albuquerque information site is free for you, 24 hours a day, 7 days a week!